Creative Photoshop Compositing with Andrew Kavanagh
Online Event – Tuesday, November 16, 2021 6:00 PM PST
Win Adobe Creative Cloud!
https://www.eventbrite.com/e/creative-photoshop-compositing-with-andrew-kavanagh-tickets-204285863517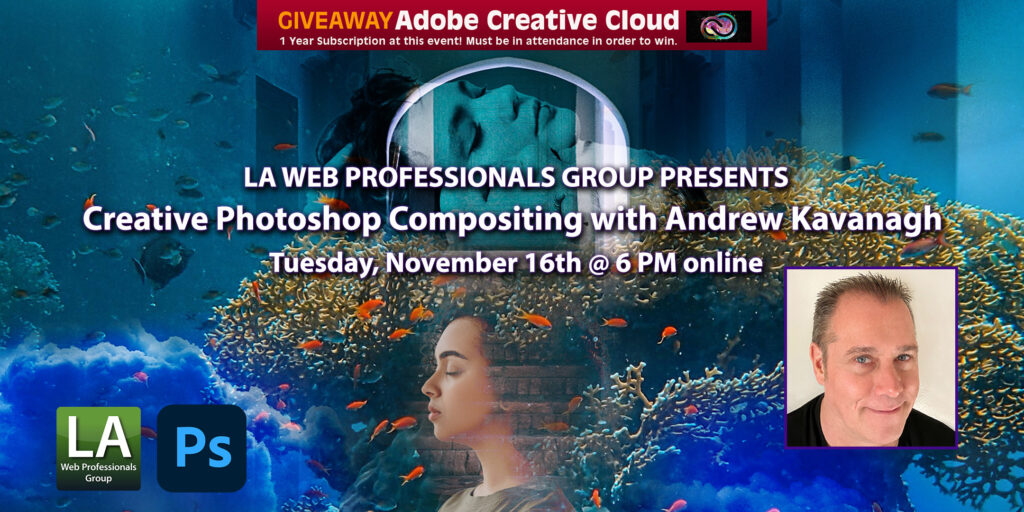 Join Andrew as he shows you the steps to bring to life a creative photo composite in Photoshop and teach you real-world photo compositing techniques.
Learn
• Different ways of selecting your subject
• Easy ways to remove the background from your subject
• Utilizing Layer Masks to blend two images together
• The diverse variety of layer blending modes
• Non-destructive editing utilizing Smart Objects/Smart Filters
• How to make your image pop with Color Grading in the Camera Raw filter
• How to save your composite with Export As and Save for Web
Speaker Bio:
Andrew Kavanagh is a Digital Artist, Photoshop and Adobe Lightroom Tutor, and does Photo Compositing and Photo Retouching in Los Angeles, CA.
He runs one of the largest Photoshop and Lightroom groups on Facebook: https://www.facebook.com/groups/PhotoshopLightroomgroup
Andrew has done photo compositing, retouching and restoration work for Sony, Intel, Jack Morton Worldwide, Herbalife, The Discovery Channel, The Gap, Andresen Digital Imaging, Hewlett Packard, Godiva, Ralph Lauren, Revlon, Time Magazine, and The Beverly Collection to name a few.
Andrew is a winner of the Guru Award for Photoshop Artistry at Photoshop World 2021.
You can find Andrew online at
Digital Artist – Andrew Kavanagh on Facebook
Instagram
Behance