Automating Creative Production in Photoshop featuring Mark Heaps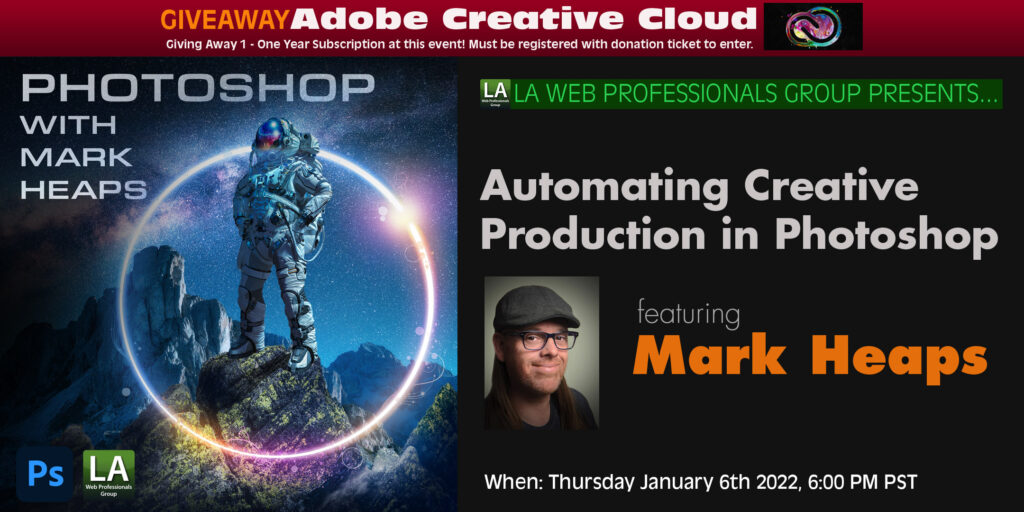 Online Event – Thursday January 6, 2022 • 6:00 PM PST
Win Adobe Creative Cloud!
Come hang out with Mark Heaps as he shows techniques for building graphics commonly used in client projects and how he automates many of his designs for replication over a project timeline. He'll cover some of his favorite less-used features in Photoshop for creative projects.
Speaker Bio: Mark Heaps
Mark Heaps, Professional Creative, seeded his path by skateboarding and playing in bands. Today he is Head of Brand & Creative at Groq Inc. Mark is known for promoting "production advocacy" and "working happy not harder." He has honed his chops working on projects for companies like Apple, Google, Facebook, E&J Gallo, Capital One, and that family friend demanding a free logo. He's an Adobe MAX Master award recipient, author, and noted speaker at various industry events. He resides in Austin, Texas, with his wife, two rad kids, a Goldendoodle, and another dog that lied about not being part chihuahua.
Register Here: https://www.eventbrite.com/e/automating-creative-production-in-photoshop-featuring-mark-heaps-tickets-229042471197