[et_pb_section fb_built="1″ _builder_version="3.0.106″][et_pb_row _builder_version="3.0.106″][et_pb_column type="4_4″ _builder_version="3.0.106″ parallax="off" parallax_method="on"][et_pb_text _builder_version="3.0.106″]
LA Web Professionals Group
Photoshop: Marriage of Fantasy & Reality featuring Stephen Burns
We are giving away 2 Adobe Creative Cloud Subscriptions!!!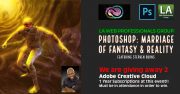 REGISTER HERE: https://www.eventbee.com/v/laweb/event?eid=114267194#/tickets
Date: Tuesday April 24, 2018 – 6:45 PM-9:20 PM
Location: BLANKSPACES Santa Monica – 1450 2nd St, Santa Monica, CA  90401
Fuse and Photoshop Integration For Digital Artists With Adobe presenting some wonderful upgrades in a variety of areas in Photoshop Stephen Burns will share how to use the new 3D tools from Adobe Fuse for creating an artistic concept environment. The first half of the presentation we will use the power of Adobe fuse to create our main character. You will learn not only how to create, cloth and texture yout 3D character but also how to apply animation to be used in your concept art scene. In the second half of the presentation Stephen will create the environment using a combination of photo bashing an digital painting. Come and enjoy as Stephen shares what is possible in Photoshop.
Speaker Bio: Stephen Burns (www.chromeallusion.com) is a digital artist and author of books on being creative with your digital tools.  He is an Adobe AEL (Adobe Educational Leader) and Adobe Freelancer and has taught digital creativity internationally.  He is an Instructor at Otis School Of Arts & Design.  He is also the president Of The San Diego Photoshop Users Group (www.sdphotoshopusers.com) which is currently the largest Adobe Photoshop Users group in the country.
He is guest writer for a number of magazines to include the feature article and front cover of Photoshop User Magazine (http://www.chromeallusion.com/articles_index.htm).   In addition, Stephen is the author of the following books (http://www.chromeallusion.com/books.htm):
He has discovered the same passion for the digital medium as he has for photography as an art form. His background began as a photographer 28 year ago and in time, progressed toward the digital medium. His artistic influences include the great Abstractionists & the Surrealists including Jackson Pollock, Wassily Kandinsky, Pablo Picasso, Franz Kline, Mark Rothko, Mark Tobey, and Lenore Fini, to name a few.
Stephen Burns has been a corporate instructor and lecturer in the application of digital art and design for the past 20 years internationally. He has been exhibiting digital fine art around the world at galleries such as Durban Art Museum in South Africa, Citizens Gallery in Yokahama, Japan, and CECUT Museum Of Mexico to name a few. Part of his exhibiting won him 1st place in the prestigious Seybold International digital arts contest.
He teaches Digital Manipulation Workshops online and privately.   He is an instructor on http://training.xtrain.com/faculty/show/Stephen+Burns , Photoshop Café (http://www.chromeallusion.com/dvd_index.html), Layers Magazine (http://www.chromeallusion.com/tutorials_3d_layersmag.html).
6:45 PM – Doors Open – Registration (PLEASE DO NOT ARRIVE BEFORE 6:45 PM!!)
7:00 PM – 15 Minute Tips & Tricks With a Pro – Intro to Animate! Learn about the drawing capabilities of Animate CC. Watch as Mark Itskowitch of HeadTrix creates and colorizes vector art… And shows you how to create an export an animated Web Banner!
7:15 PM – Part 1 – Photoshop – Stephen Burns
8:20 PM – Networking Break
8:35 PM – Prize Drawing
8:40 PM – Part 2 – Photoshop – Stephen Burns
9:20 PM – Meeting End
Seating is very limited. Register early if you want to attend, registration is on a first-come basis.
If you still want to attend without registering ahead and space permits, it will be $10 at the Door and includes 1 door prize ticket.
REGISTER HERE: https://www.eventbee.com/v/laweb/event?eid=114267194#/tickets

Please feel free to invite as many friends as you want and forward this invitation!
A meetup event of the LA Web Professionals Group, Los Angeles Web Design company DK Interactive Design, Daniel Kramer Computer Consulting.
[/et_pb_text][/et_pb_column][/et_pb_row][/et_pb_section]